Chapter 2: Swedish Andersson to American Skoglund
The Immigration of Anders, Stina, John and Caroline Andersson
---
| | |
| --- | --- |
| 1. | Anders Peter Andersson (1837-1905) -- Christina Olofsdotter (1827-1912) |
---
Anders Peter Andersson (also Andrew Peter at times) was born in July 1837 in Sweden. Though we don't know much about his ancestors besides the fact that both his mother and father were Swedish, his father's first name was probably Anders. Patronymic naming was common practice in Sweden: Anders acquired the surname of "Andersson" because he was literally "Anders' son". However, patronymic naming was not absolute, so Anders father may have passed down his last name of Andersson to his offspring (like we do today) instead of his first name.
Anders married Christina Olofsdotter (also Kristina at times) in Sweden sometime before 1861. Christina was born on July 16, 1827 in Sweden to Olof Swenson of Sweden (her mother was also Swedish though I don't know her name). She had at least one sister because she is in a photograph taken in Minnesota. Everyone called her "Stina".


Anders Andersson; Stina (Olofsdotter) Andersson
Anders and Stina had four children altogether: Peter (1861), Mathilda (1864), John Alfred (1867) and a child who died in infancy. All of the children were born in Sweden.
---
| | |
| --- | --- |
| 1. | John Andersson (1840-?) -- Caroline (1841-?) |
---
Anders had at least one sibling, a younger brother named John A. Andersson who was born on May 10, 1840 in Sweden. (I am not sure where I found the May 10 date, it may be incorrect.) While still living in Sweden, John married a woman named Caroline who was born in 1841 in Sweden.
---
Anders, Stina, John and Caroline were all living in Elgaras, Skaraborgs län, Västergötland, Sweden. (Elgaras is the town, Skaraborgs län is the "län" or county, Västergötland is the "landskap", province or state.) Västergötland was the southern half of Älvsborgs län and all of Skaraborgs län (the two counties) until 1998. Today it is part of Västra Götalands län. It is located south of Lake Vänern. It is a flat countryside except for part of the Lake Vänern coastline. I believe that the town name Elgaras may be an old spelling for Älgarås. (Elgaras did exist and is not a misspelling because I found a postcard for Elgaras.) There are two towns called Älgarås in Skarnborgs län--one is a small town east of Skövde near Lake Vättern, the other is a slightly larger town north of Skövde near Lake Unden.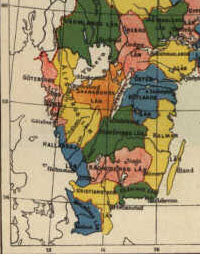 Map indicating modern Västra Götalands län; Historic map of southern Sweden (the orange area is Skaraborgs län)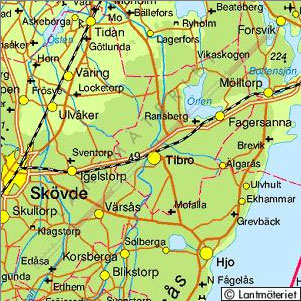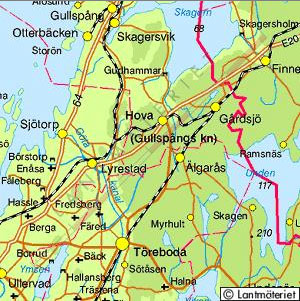 Map of Älgarås, east of Skövde; Map of Älgarås, near Lake Unden
---
Sometime before 1869, John Andersson immigrated to the United States and settled in Lake Andrew Township, Kandiyohi County, Minnesota. Upon arriving, John changed his surname to Skoglund. It is possible that it was to avoid confusion with the many Anderssons already in America or it may have been to select a name that was more distinctly Swedish (which Skoglund is). "Skoglund" means "grove of trees" (Skog=forest; lund=grove). It is not clear when Caroline joined John though census records indicate that she did join him by 1880; it is also unclear if they ever had children.
In 1869, Anders would also immigrate to Lake Andrew and change his last name to "Skoglund". It is possible that Anders is the Swede "Anders Anderson" on the SS Nevada from Liverpool, England to New York on October 25, 1869. He took a homestead on the north shore of beautiful Lake Florida. Lake Florida is 6 miles west of Spicer and 8 miles north of Willmar, off the modern state highway 71.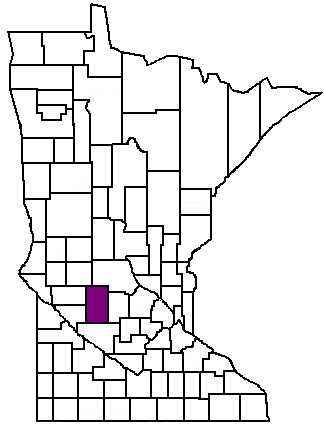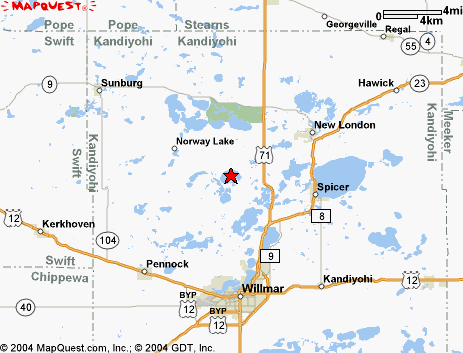 Kandiyohi County, Minnesota; Location of Lake Florida
In 1870, Stina and the three children would join Anders in America. They travelled to New York by boat and then by train to Minnesota. On their first day in America, while transferring from boat to train in New York City, they ran into some misadventure. As they turned a corner in the busy city, some young pranksters grabbed nine year old Peter and held him captive. One can imagine the fear that must have been in his heart especially since he could not speak or understand the English language of his captors. Luckily, Stina soon realized that he was missing and backtracked until she found Peter and released him. To this day, no one knows what she did to the "young ruffians".
Anders and John were settlers and farmers in Minnesota. They worked hard to break the land with what meager equipment they had and what they could borrow from their neighbors. From the archive of the U.S. Bureau of Land Management, it appears that Anders owned 80 acres in August of 1876. It may also be him that filed for ownership of another 40 acres in December of that same year and 62 acres in 1880. John owned 120 acres of land in July 1874. It may also be John who filed for another 160 acres in 1886 and 155 acres in 1904.
In her early forties, Stina was strong and did her share of hard work on the homestead too. She dug cellars where they could store their vegetables from the bitter cold of the long Minnestota winters. While Anders and John dug fencepost holes and set the fenceposts, Stina strung the wires between them. Before the fences were completed, she sometimes walked two or three miles to bring the cows home for the evening milking.
Their first house was a one-room log cabin built in a hillside with a sod roof. Furniture was hand-made--simple and of good taste and desgin. Supposedly a walnut divan bed still remains, one half slides out from the main part making a double-size bed, though I don't know where it is now. Stina made the down mattress for it from the softest feathers of chickens and ducks, even some from an eagle that Andrew shot down from a tree by the shores of Lake Florida.
Like all the pioneers in the new settlement, the Skoglunds had to be frugal, resourceful and ambitious. Stina spun her own yarn and linen. In winter she wove fine cloth and rugs for the floors. All sewing had to be done by hand. During the summer, as much food as possible was carefully cleaned, dried and stored. After winter set in, Anders did the butchering. Some of the meat was frozen until needed; some salted, some smoked and some dried. From sausages and headcheese to pickled pig's feet--nothing usable was ever wasted. Hides were tanned and used in a variety of ways. The horns of animals were made in to powder horns for muzzle-loading guns.
In 1869, a school house had been built in District 25. It served a large territory and the Skoglund children had to walk a long ways to get to school, sometimes in snow up to their knees.
The Skoglund families helped to organize the Lake Florida Mission Covenant Church (a Lutheran church) and helped to build the building on John Skoglund's farm in 1870. There were 12 charter members: Nels Bratlund, Peter Warholm, Lars Hedin, H. Hakanson, B.N. Blom, J. Nord, John Skoglund, Anders P. Skoglund, O. Jansson, O.I. Rodlund, N. Larson. The one-room church is still standing today though worship services are only held their on Christmas and special occassions. Even though the sign says: "First Church in Minnesota Organized by Mission Friend Immigrants From Sweden", it was not the first Swedish church in Minnesota, but instead, the first Mission Covenant Church in Minnesota.
The Mission Covenant Church is an evangelical Christian denomination with a Lutheran historical and theological background, however it does not consider itself a Lutheran denomination. Out of the religious awakening that swept through Sweden around the middle of the 19th century came the Swedish Evangelical Mission in 1855. During the 1870s and 1880s when Swedish immigration rose dramatically, a great number of the young Swedes arriving had been converted during revivals in their homeland. As new congregations were formed in America, they were called "Mission Friends" churches. In 1885, they were ogranzied under the name "Evangelical Mission Covenant of America". The name was changed to "Evangelical Covenant Church of America" in 1937.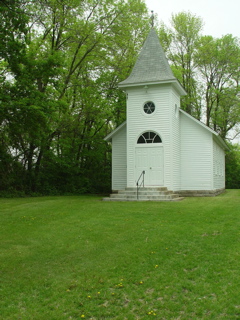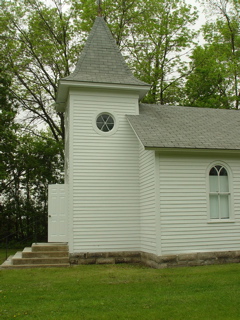 Lake Florida Mission Covenant Church, Kandiyohi County, Minnesota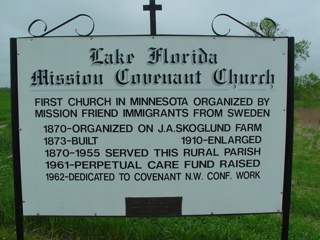 Church sign; Church interior in 2004
These early Skoglund families endured the hardships of frontier life in nineteenth-century America. From January 7 through January 9, 1873 there was an enormous snowstorm in Kandiyohi County. The Willmar Tribune Newspaper reported on the 75th Anniversary of the great storm: "The day started clear and bright and the settlers were encouraged to go about their tasks distant from their farms, such as trading in nearby towns or do wood cutting in their timber lots. At two o'clock in the afternoon a great calm settled and the stillness was so great, sounds carried for miles. Then suddenly a great rumbling was heard and the storm broke so swiftly, the folks who were at home scarcely had time to get into their houses. The storm continued steadily until January 9th, when it began to moderate slightly. Throughout the day it continued as an ordinary blizzard, but farmers were able to venture out and care for their stock. When the roads were opened and communication established between the settlements, it was learned that many people had perished. Thirteen people froze to death in Kandiyohi County. Some were found only a short distance from shelter. Several were crippled for life."
Then, just three years later in 1876, on a bright summer morning, a great cloud of darkness appeared from the West and approached the farms very swiftly. Soon locusts rained down over everything. They stayed three days, then left in an equally impressive swarming cloud. They left nothing green in the field or the garden, even all the trees were stripped of their leaves. It was no less shocking when the next summer, the locusts returned again to strip the town of its vegetation during another three-day visit. The Red Cross gave what aid they could to the stricken settlement but resources were limited and the settlers had to help themselves and each other as best they could.
In 1879, the settlers again faced a life-threatening danger: an epidemic of diphtheria broke out and claimed the lives of several children. Diphtheria is a highly-contagious bacterial disease that usually affects the tonsils, throat and nose, especially in children. It can easily be misaken for a severe sore throat but it can cause breathing problems, heart failure, paralysis and death. It spreads primarily through coughing and sneezing or sharing a drinking glass. While it seems like rare disease now, keep in mind that diphtheria wasn't studied closely until 1883 and a vaccine wasn't available until the 1920s. Fortunately, the farms were so widely separated that the epidemic soon died down.

Skoglund Family Homestead, Lake Florida, Minnesota, about 1880
Anders Skoglund's family is listed in the 1880 U.S. Census for Lake Andrew Township, Kandiyohi County, Minnesota.



In addition the census data shows that both Anders and Stina's parents were Swedish. They can both read, but Stina cannot write. I'm not sure why Mathilda isn't marked as being "at home" like Peter and Johan, perhaps "at home" was used only to designate males that hadn't entered the workforce yet. Another clue might be that Peter and Johan are both marked as attending school in the previous year, while Mathilda was not.
The 1880 census for Lake Andrew also lists John Skoglund's family.




At the time of the census, John and Caroline had a young, unmarried farm laborer living with them. It also indicates that both John and Caroline's parents were Swedish and they can both read and write.
The 1900 census show both Peter's family living with the aging Anders and Stina. It also includes Maria Carlson, an elderly woman with no children of her own, who immigrated in 1881 and can't read or write English. She listed as "aunty" though her exact relationship isn't given. Most likely it is Sophia's aunt.




The cenus also reveals that Anders and Stina had four children even though only three are now living. In 1900, Peter and Sophia had only the three children listed. (Their daughter Olga would die in infancy after 1900.) Both Anders and Peter are farmers and the three children are all in school. Anders was a naturalized citizen who owned his own farm but had a mortage on it.
Late in life, while standing on a hill by the lake, his grandchild Arthur asked Anders what he was thinking. Anders replied, "This is what America has given me. I could never have owned this anywhere else in the world." Anders died in 1905 at 68 years of age. In the 1910 census, Stina was living with her son Johan Alfred Skoglund (shown later). Two years later, Stina died of chronic degenerative myocarditis (inflamation of the heart) on August 26, 1912 at the age of 85. Somewhat poetically, she had been suffering from an inflamed heart for the last two years before she died. Anders and Stina are buried together at the Lake Florida Mission Covenant Church in Lake Florida, Minnesota.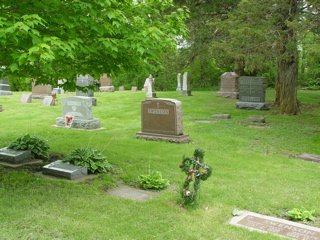 Lake Florida Cemetery (next to the church pictured above); Headstone of Anders Peter and Christina Skoglund
---
I do not know what happened to John and Caroline Skoglund after 1880 or where they are buried. I am still trying to locate John and Caroline in the 1910 census. It might be in the same cemetery and I just failed to see it. There was a Carolina Skoglund buried in Mendota Heights, Dakota County, MN who died on Feb 18, 1942.