Chapter 2: Swedish Andersson to American Skoglund
Anders Andersson and Christina Olofsdotter's Children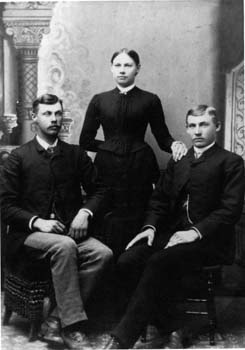 Peter, Mathilda and John (Andersson) Skoglund
---
1.
Anders Peter Andersson (1837-1905) -- Christina Olofsdotter (1827-1912)
2.
Peter Andersson (1861-1935)
Mathilda Andersson (1864-1898)
Johan Alfred Andersson (1867-1948)
infant
---
Peter Andersson was Anders and Stina's oldest son. He was born on January 9, 1861 in Västergötland, Sweden. He came to America with his mother in 1870, at nine years of age, and changed his name to Peter Skoglund when he arrived. Peter lived in went to high school in Willmar, Minnesota, the county seat, and began taking an active part in the activities of the young community. When he shows up on the 1880 census (shown previously), Peter is 19 years old, living at home with his parents and attending school. He had learned the art of "witching" for water with a green willow stick, and thereby located many wells for the neighboring farmers.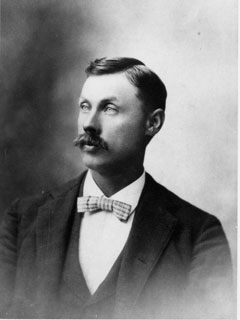 Peter Skoglund, photo taken about 1891 in Willmar, Minnesota
Peter Skoglund married Mathilda Alberg who was born around 1868. Mathilda's father was Alexander Alberg. I believe they were married in 1885.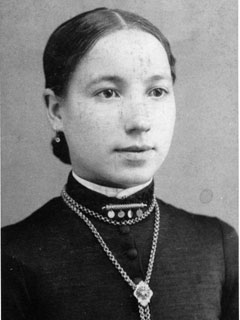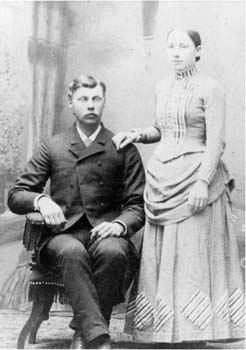 Mathilda (Alberg) Skoglund, 17 years old; Peter and Mathilda (Alberg) Skoglund
Peter had four children: Arthur Gideon (1889), Ellen (1891), Esther (1893) and Olga who died in infancy. Baby Olga is buried in a far corner of the cemetary at the Lake Florida Mission Covenant Church though the headstone is no longer there (a map inside the church indicates where it should be located).
I don't know what happened to Mathilda, but Peter married Mathilda's sister, Sophia B. Alberg in 1899. Sophia was born in Minnesota on May 30, 1870. One census says she was born in Minnesota, the next says Sweden. There is a photo labeled as "Arthur's Grandmother Alberg, Mathilda & Sophia's mother"; her name is not given. This could be incorrect. The 1920 census suggests that Sophia's mother's first name was Lisa Nygren and a family photograph shows "Grandpa and Grandma Nygren" with many Ogren children. Nygren could have been the family name before immigrating.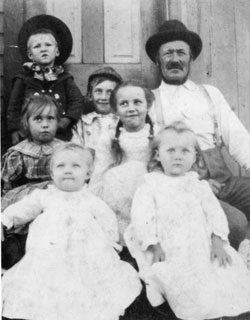 Alexander Alberg with (clockwise from top) Walter, Arthur, Ellen, Lillian, Mable and Esther Skoglund, around 1898 in Lake Florida; Grandmother Alberg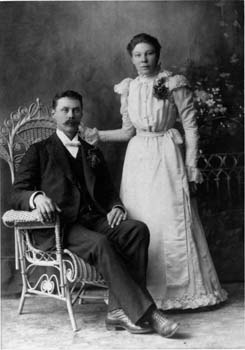 Peter and Sophia Skoglund; Sophia and Peter Skoglund
The 1900 census shows Peter and Sophia's family living with Anders and Stina. It also shows that Olga has not been born yet.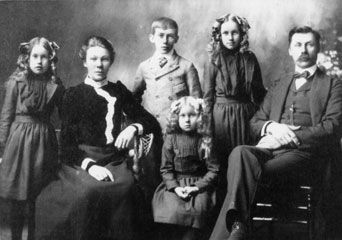 Esther, Sophia, Arthur, Lillian (niece), Ellen, Peter Skoglund
Peter was a man of many talents. He was an amateur photographer, some of his photos are printed as part of the Kandiyohi County History. From 1894 to 1898, he served as County Commissioner for Kandiyohi County. He worked for and helped establish the first postal rural delivery in the county. The first delivery was made from Willmar to Lake Florida on June 4, 1900. After his success in setting up a postal route, Peter and his brother John Alfred began to organize and interest the local farmers in building their own telephone line. On February 27, 1904, they set up a county phone system. For decades, Peter served as the first secretary and maintained the central switch in the Skoglund home.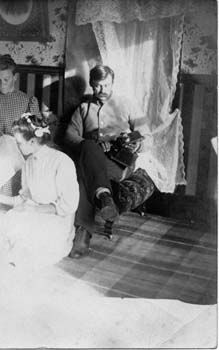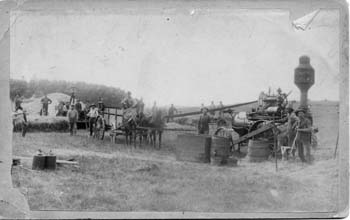 Peter Skoglund working on a telephone (with Sophia above and Ellen below); "Threshing at Holm's Farm", a photograph taken by Peter Skoglund
Weather forecasts were given out by a general telephone call each morning. Sometimes, on winter evenings when nearly every home was snow-bound, Peter's children would entertain with music and songs over the telephone. The farmers loved their telephones, but were still a bit cautious. Once when four children in one family died from a contagious disease, a neighbor telephoned Peter and advised him not to let his children take any calls from that home as the neighbor feared that germs might travel over the phone wire.
Peter observed the migrations of birds in his locality for the Division of Orinthology, U.S. Deptartment of Agriculture. He studied water levels and conditions of the nearby lakes and ordered young fish from the Fish & Game Department to stock the lakes with game fish. He served as county assessor, clerk, supervisor, Justice of the Peace, and on the school board of District 25. If that wasn't enough, his family also stayed active in the Lake Florida Mission Church.
The 1910 census show Peter's family living in New London. It appears they are living on State Road, just three doors down from the Ogren Family (and Alvin Ogren was their census taker). So Arthur Skoglund probably knew Hannah Ogren for most of his life.




Peter is listed as being a "Manager" but the further description looks like "Farm(er) Elevator" or "Farm(er) Educator" or "Farmer Elector". He is no longer living on a farm, instead he is renting a house. May (3) and Muriel (1 1/12) Newman are living with Peter and are listed as his neices.
The 1920 census lists Peter Skoglund (58) and Sophia (49) living with Lisa Nygren (78). Lisa is listed as "mother" and should be Sophia's widowed mother. Lisa immigrated in 1869. Peter is listed as immigrating in 1871 and being naturalized as a U.S. citizen in 1880. His profession is general farmer. Peter and Sophia are living next door to John A. Skoglund, his brother. (They are both listed as house #39 which could either indicate that they were living under the same roof or in two houses on the same land.)


Bureau of Land Management records show a Peter Skoglund filed for ownership of 104 acres in March 1880 (when our Peter was 19 years old) and for another 160 acres in 1900. It is not certain if either of these are the same Peter Skoglund or not. The fact that the 1900 census shows he was living with Anders and did not own his own farm means the first listing is unlikely to be his (March 1880 was earlier than the census date). The second listing in 1900 could be his, though by 1910 he was renting in a house in New London.
Peter died on April 5, 1935 at the age of 74. He died of arthritis deformans and arthrosclerosis (severe thickening of joints and joint deformities) which had troubled him for 12 years. Sophia died much later on April 8, 1961 at the age of 91. Sophia had been in the Bethesda Nursing Home in Willmar, Kandiyohi County for the last five years of her life. She died from causes associated with her old age: she suffered from cerebral arteriosclerosis with psychosis (mental impairment) and she fought with decubitus ulcers with gangrene for three months (extreme and infected bed sores) before she died of bronchopneumonia (swelling of the lungs cause by infection). Both Peter and Sophia are buried together in the cemetery of the Lake Florida Mission Covenant Church.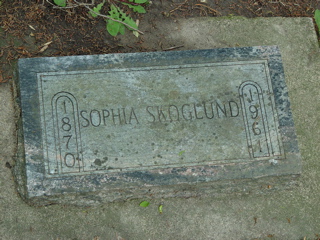 Headstone of Peter Skoglund; Headstone of Sophia Skoglund
---
Mathilda Skoglund, Peter's sister, was born in 1864 in Sweden and immigrated with her family in 1870. It is not clear if she ever married but she did have one child named Lillian on September 19, 1898. Mathilda died in May or June of 1898 when Lillian was just nine months old.
Lillian Skoglund, the only child of Mathilda, was born in September of 1897 in Minnesota and raised by her grandparents Anders and Stina. She moved to Kansas City, Missouri during early girlhood and married Archie Shepherd. They never had children.
One interesting family artifact is a letter written by Matilda Andersson that describes, in Swedish, how to make lace with a star pattern in it--8 large stars and 18 small ones. The letter, to an unnamed recipient, pehaps never sent, is signed "Matilda Andersson". The letter probably was written between 1882 and 1898. It is curious that Mathilda would still use Andersson if her name was changed to Skoglund upon immigration (in 1870 when she was just six years old). However, Mathilda may have been writing to someone who knew her with her previous name or this letter may not have been written by our Mathilda Skoglund but instead received by a family member from someone actually named "Matilda Andersson".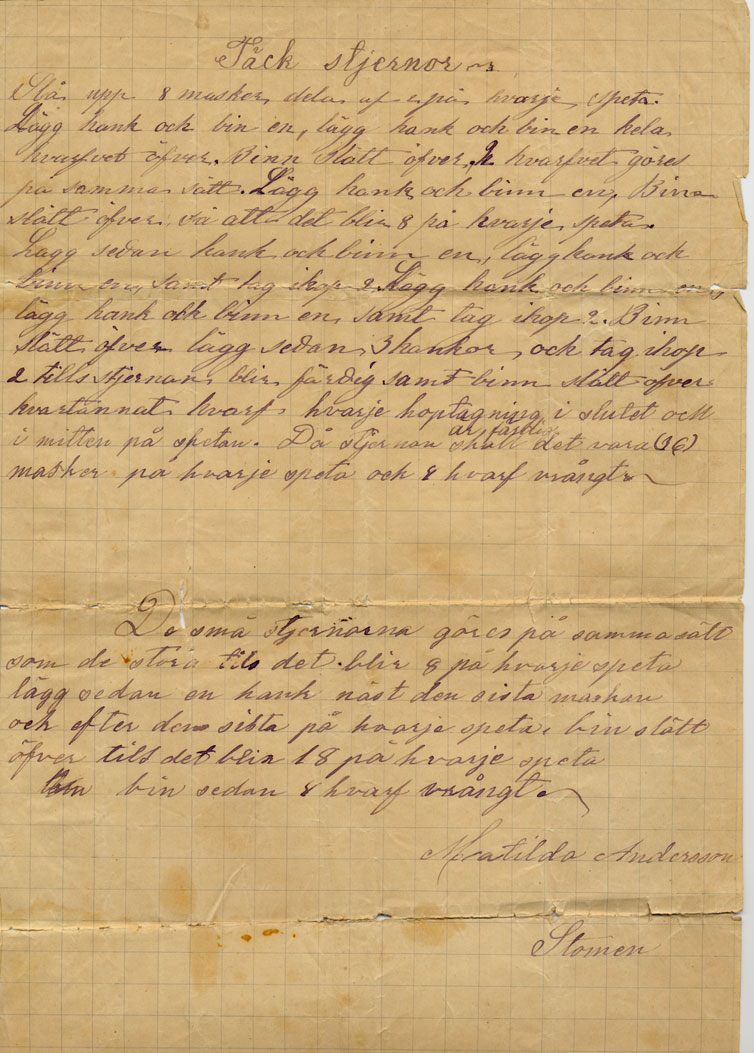 Letter (in Swedish) by Matilda Andersson describing how to make a certain type of lace.
---
Johan "John" Alfred Skoglund, Anders and Stina's youngest child, was born on October 12, 1867 in Sweden. I found a record for a Johannes Andersson born (or possibly christened) Oct 31, 1867 in Alekulla, Alvsborg, Sweden to Anders Andersson and Christina Olofsdotter; it could be the same person. He immigrated with his mother and siblings in 1870. John married Ida Ahlberg in 1894. Ida was born on April 24 or 25, 1876 in Sweden to Alexander and Mary Ahlberg (both Swedish) and immigrated in 1883. I am not sure if Ida Ahlberg is related to Peter's wives Mathilda and Sophia Alberg or not. John was a farmer in Lake Florida. John and Ida had three children: Walter A. (1896), Mable (1898) and Victor Emanuel (1901).
The 1900 census for Lake Florida, Kandiyohi County, Minnesota shows John's family.




One can see that John and Ida have only had two children so far, both living. It also indicates that John is a farmer who is renting his farm.
Ida died of consumption (wasting away of the body, probably from tuberculous) on July 4, 1906 in Willmar, Kandiyohi at just 30 years of age. The 1910 census for Lake Florida, Kandiyohi County, Minnesota shows the widowed John Alfred with three children and his mother, Stina, living with them.




First, notice that even though the census lists Stina as John's grandmother, it is incorrect--she is his mother. It also seems to indicate that Stina can't speak English, only Swedish, and can't read or write. John was a naturalized U.S. citizen and "general farmer" who was renting his farm. Victor and Mable were in school but Walter was not (though no profession was listed for him either). John's nephew, Peter's son Arthur, is living next door to him.
In 1920, John is living next door to his brother Peter and his sister-in-law Sophia. Living with the "widowed" John A. (52) are his children Mabel (22) and Victor (18), both single, and two nieces Mercedes (13) and Muriel (10) Newman, who are both still in school. These are the same two nieces who were living with Peter and Sophia in 1910. John is a general farmer and Victor is a laborer on the "home farm".


John lived to be 80 and died on June 20, 1948, much later than his wife. Before his death he had been living in Spicer, Kandiyohi, Minnesota. He was in the Bethesda Hospital in St. Paul for one month with exfoliative dermatitis (scaling of the skin) before dying from acute cardiac failure. He is buried with Ida in the cemetery of the Lake Florida Mission Covenant Church.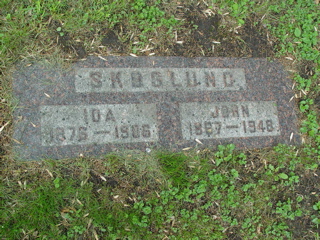 Headstone of John Alfred and Ida Skoglund
Walter A. Skoglund, the son of John and Ida was born January 9, 1896 in Minnesota. (His social security number was SS#472-28-5920.) He was a Private in the U.S. Army during World War I. He lived in the town of Spicer in Kandiyohi County and married Manda on June 20, 1923. Manda had been born in 1901. Walter died February 1981 and Manda died in 1986. They are buried together in the Lake Florida Mission Covenant Church cemetery.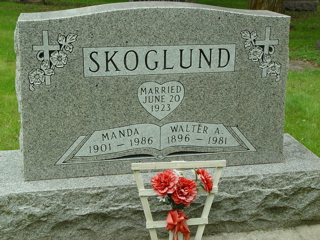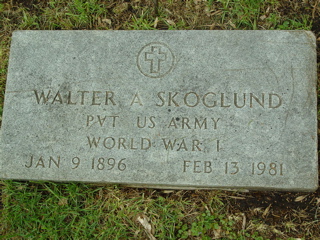 Headstone of Walter A. and Manda Skoglund; Walter's second headstone showing his military service
Mable Skoglund was the daughter of John and Ida and was born in August 1898. I don't know much about Mable, but one photograph suggests that she married someone named Danielson.
Victor Emanuel Skoglund was the third child of John and Ida. He was born March 12, 1901. (His social security number was SS#471-22-6871). He married Olga Pauline Larson on June 6, 1925 in St. Paul, Minnesota. Olga had been born on July 18, 1903 in Winfield Township, Renville County, Minnesota. Her parents were Ole and Julia (Olson) Larson and she had three brothers and four sisters.
Victor and Olga lived in St. Paul from 1925 until 1944, when they moved to RR1 401 Dakota Avenue, Atwater, Kandiyohi County, Minnesota. Victor was the owner/operator of a service station. Victor and Olga had a son Verdon Emanuel "Butch" Skoglund who was born on August 10, 1929 in St. Paul, Minnesota. He graduated from Atwater High School in 1947 and served in the U.S. Air Force during the Korean War. He married Marlene S. Everson, had two sons and died along with his wife on June 11, 2001 in Dovre Township, Kandiyohi County.
Victor died on March 12, 1983 of obstructive lung disease and pneumonia, due to having tuberculosis when he was younger. Olga died on August 1, 2004 at the GlenOaks Care Center in New London at the age of 101. Victor and Olga are both buried in the Lake Florida Mission Covenant Cemetery.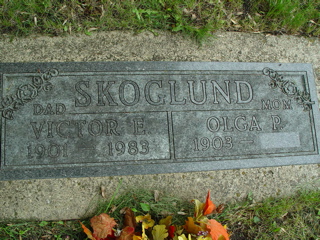 Headstone of Victor and Olga Skoglund (in 2004 while Olga was living)
---
Out of Peter and Sophia Skoglund's three surviving children, I do not know much about Ellen and Esther. Ellen was born in April 1891 and Esther was born in July 1893. From a photograph, I believe that Esther may have married someone named Christensen.


Mock wedding -- back row: Esther Skoglund, unknown, Ellen Skoglund, H. Skoglund (Wheaton, MN); front row: Florence Nygren Johnson (groom), Emma Skoglund (bride)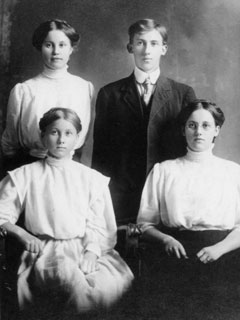 (Clockwise from top left) Esther, Arthur, Ellen, Lillie (cousin), about 1908 in Willmar
Arthur Gideon Skoglund, their eldest child, was born on November 6, 1889 in Lake Florida, Minnesota (SS# 476-34-3423). His story will continue in Chapter 4: Skoglund-Ogren.